NEWS
'DWTS' Watch: Audrina Patridge Eliminated; Gears Up for New Reality Show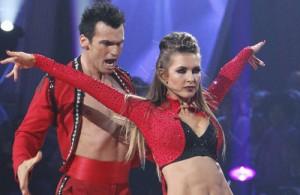 In a Dancing With the Stars shocker, Audrina Patridge was eliminated from the ABC reality show on Tuesday night.
The Hills beauty danced strongly all season with her partner Tony Dovolani and was once considered a contender to make the finale. But she got the boot even though her Monday night scores were good for second place. Audrina and Tony performed the paso doble and garnered 24 out of 30. They earned eight out of 10 for the dance marathon, giving them a total score of 32 out of 40, second only to Brandy and Maksim Chmerkovskiy at 36.
Article continues below advertisement
But, in the first ever rock and roll week, Audrina and Tony might have been jinxed by dancing to Queen's "Another One Bites the Dust." More seriously, the judges' stern comments probably cost Audrina votes, as she got ripped for not having enough passion. Judge Len Goodman told her, "You're getting on my nerves. Every week it lacks the character of the dance."
OK! DWTS WATCH: BRANDY TRIUMPHS; JENNIFER GREY TANKS
Bruno Tonioli agreed with Len, with only Carrie Ann Inaba sticking up for Audrina, who looked on the verge of tears (footage shown on Tuesday night's show revealed the star did cry backstage). Both Audrina and Tony were puzzled by the judges on Monday night, with the longtime DWTS pro saying, "I was so happy with the intensity she gave me."
Article continues below advertisement
And the two looked like the wind had been knocked out of them after Tuesday's show. Audrina told reporters backstage she was "very shocked. I didn't think we were going home tonight. I was baffled last night and I'm still baffled. Last night's comments were harsh. There's nothing more I can really say. I'm really sad to be leaving."
Tony added, "It's hard when you put that much work into it. I know that the judges sway an audience and in this particular case, I wanted them to recognize how hard Audrina had been working to get to this point, and instead, they scolded us and not once but a couple of weeks in a row. They kind of focused on her character and I think she has the greatest character in the world."
Article continues below advertisement
Audrina confided, "I started to get teary-eyed down there on the ballroom floor. I thought I'm not going to see all these people."
Still, Audrina, 25, wanted to emphasize, "It was meant to be. I've had a great experience, a great journey, I've made such good friends and I've learned a lot about myself and I've grown as a person. I got to learn from one of the greatest teachers in the world, Tony. I've found a new confidence. Since I'm not on The Hills anymore, I get to get in touch with myself and what I want to do, make my own decisions now and I feel like I'm just maturing more and more."
To that end, Audrina told OK! her reality show with super producer Mark Burnett did get picked up on VH1.
"We're going to start filming that next, so the journey continues." Audrina said the series will be about her life: "my family, me, and everything everyone always wondered about they're going to see and know." She'll announce the name of the show on Wednesday.
Article continues below advertisement
"Tony will be on it!" she smiled. "He's one of my good friends now."
Audrina vows to continue to dance: "All my girlfriends are like, God, forbid, if you do get voted off, we want to go learn how to dance with you and go to classes." And she'll have the perfect place, as Tony told reporters he and Maksim are opening a new dance studio called "Dance with Me" in Hollywood.
The remaining six couples move on to next week, in which there will be a team dance led by two DWTS alum captains — Apolo Anton Ohno and Kristi Yamaguchi.
Jennifer Grey, Brandy, and Kurt Warner are on Team Apolo, while Bristol Palin, Rick Fox, and Kyle Massey will be with Team Kristi.
DWTS will celebrate its 200th show on Monday night and on Tuesday, ABC will announce its cast for the upcoming winter reality show Skating with the Stars so stay tuned!