PHOTOS
Hey Reese, Wait Up!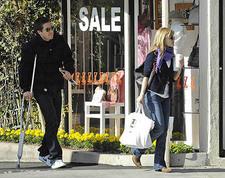 Over the weekend, Hollywood hunk Jake Gyllenhaal, who reportedly sprained his ankle while shooting some hoops with friends, limped behind Oscar-winning gal-pal Reese Witherspoon as the pair went for their morning coffee in the celeb-friendly 'hood of Brentwood.
According to witnesses, it looks like Jake's injury had taken a turn for the worse as he was using a crutch for support.
Article continues below advertisement
And while the actor appears to be getting ample support from his crutch, the same can't be said for Reese, who galloped in front of her man while he struggled to catch up.
Hey, Jake we'll support you!