NEWS
Hollywood's Leading Ladies Show Their Power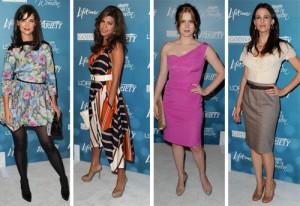 Hollywood's most powerful women came out in full force Thursday to celebrate one another and females everywhere at Variety's 2nd Annual Power Of Women Luncheon in Beverly Hills. Katie Holmes, Eva Mendes, Amy Adams and Jennifer Garner and Anne Hathaway were just a few of the leading ladies — all looking beautiful as always — in attendance at the gathering.
Katie posed with her young Don't Be Afraid of the Dark co-star Bailee Madison at the event, and at a quick glance, young Bailee looks a little bit like Katie's daughter Suri Cruise!
Article continues below advertisement
Diane Lane brought hubby Josh Brolin to the luncheon, who may have been the only man on the carpet! The hot Hollywood married couple had a busy day yesterday in L.A, as Diane's latest movie Secretariat premiered yesterday as well!
Eva took some time to chat with OK! on the carpet, sharing what she thinks makes a powerful woman.
"Having a voice," Eva told OK!. "Really having a voice, and not being afraid to speak your voice. I didn't always have a voice. I think when you are younger as women sometimes we are afraid to speak up about certain things, and then minute I got a voice — that was very freeing and empowering."
So who does Eva find to be the most powerful woman in Tinseltown?
"In Hollywood? I don't know… I am going to have to go with my mom," the beauty said. "My mom is not in Holly wood, but she's here today. She is a survivor in every sense of the word. She is unbelievable!"
Jen Garner shared that women need one another to feel powerful.
Article continues below advertisement
"Recognizing the strength in other women, because to be a woman is to be part of a sisterhood. It's women working together when good things happen… and with a man occasionally," she said.
"I look up to lots of women," she added. "You wouldn't know their names. My friends – but yeah, I have amazing girlfriends."
Young actress Kerry Washington said it is important not to forget the strength women possess.
"I think that whenever we don't feel powerful as women, it's because we have forgotten who we are. So if we can remember who we are, and that we all have a voice, and the capacity to make a difference, you'll remember that you are powerful.
Reporting By Patricia Ramos