NEWS
HOT GALLERY: Lindsay Lohan Breezes Out of Bardot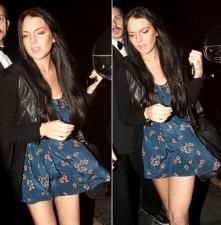 It looked a bit breezy out in L.A. last night, as Lindsay Lohan left Bardot lounge and the wind blew her dress around. So the breeze might be to blame for the almost wardrobe malfunction, but what explains those odd faces she made?
For starters, try having a crowd of photographers snapping camera flashes in your face, and see what kind of facial expressions you come up with!
Or maybe Linds was feeling the pressure of being at the same hot spot as her ex Samantha Ronson, who was also reportedly at the club and left moments later.
Article continues below advertisement