PHOTOS
Idol Insider: It's Down to Three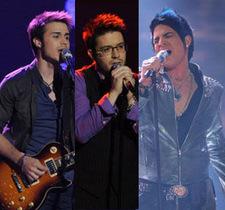 As American Idol rolls on toward the season finale, OK! asked one of the few people on the planet who know what it's like to ride the AI rollercoaster for an entire season — Diana DeGarmo — to share her unique perspective on Idol every week.
May 6 — Elimination Night
Wow. What a night. I don't think that I can fully express how shocked I am by last night's American Idol episode. But hey, what else would you expect from a show on its eighth season?!?
Article continues below advertisement
The performance from No Doubt was really fun and super exciting. I personally would've expected someone a little more hard rock, not punk, to perform, but I still loooooove No Doubt, so I was a happy camper! I guess maybe since Gwen has her Idol connection it was an easy way for them to promote their super awesome new tour that they are about to kick off. It's nice to see Idol spreading its pop wings a little!
Paula's performance of her new single was totally spicy, just how Ms. Abdul would want it! It was so cool too see her sharing the stage with Benji from So You Think You Can Dance. Paula's still got the moves and her dancers were lovin' her! The whole performance was over the top, but in a good way. I tend to like that kind of thing. :) Paula was always so nice to me during my Idol days — and still is now — so I will always support her.
PICS FROM ROCK NIGHT:
The show always takes its results down to the last second, but as soon as Kris Allen made it to the "safe zone" I knew that Allison Iraheta would be the one to go. Hey, what can I say, but we females are the main viewers of American Idol and we tend to vote for males over females.
I think that the top 4 for this season has been really great, but I think that Allison deserved to make it at least one more week. Since being on the show, I have kind of figured out how the show tends to "work" and honestly, I thought it would have come down between Allison and Adam Lambert in the finale. I have been wrong before so — believe it or not — this was not the first time! ;)
So, everyone we now have another male-dominated American Idol finale on our hands. It's gonna be a testosterone-filled show down between our last three contestants. Kris, Danny Gokey, and Adam are three very different performers so we should be expecting nothing less of spectacular over these last two weeks.
The show is in the public's hands so it's anyone's game from here!
Until next week!
—Diana
Diana can currently be seen performing in Back to Bacharach & David, directed by Kathy Najimy, at the Music Box @ Fonda in L.A. through May 17. And you can always keep up with Diana on her MySpace page!