PHOTOS
Illinois Giraffe Gives Birth To Baby Girl After Being Pregnant For 465 Days!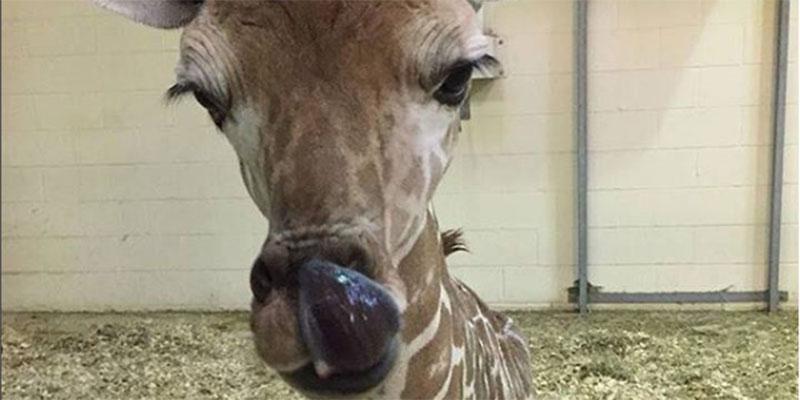 Pregnancies can be tough for anyone, but can you imagine carrying a baby for almost a year and a half? Vivian the Giraffe can vouch for that, as she was pregnant for 465 days prior to giving birth to her daughter over the weekend! Click through for all the details.
Article continues below advertisement
Peoria Zoo, located in Illinois, celebrated the arrival of their latest newborn, as Vivian gave birth to a 5'10, 122 pound baby girl at 2:38 AM local time on Sunday!
"Mom and baby are doing great. We want to keep everybody updated on baby's progress so we'll post photos and other updates here as we get them," their official Facebook page wrote in a gleeful post.
Article continues below advertisement
This is the second child for Vivian, who first gave birth to a baby boy back in 2016 named Fineley. The newborn girl has yet to be named, as the zoo plans to enlist the community's involvement in naming the baby, and staff members are currently deciding whether it will be through a contest, poll or another method.
Vivian's gestation rivals April the Giraffe's infamous one, who gave birth after being pregnant for sixteen months. Her pregnancy was so popular that it was live-streamed for millions of people to view for over two months before she finally gave birth in April 2017.
Article continues below advertisement
On Monday, Peoria Zoo posted another happy update about Vivian and her newborn daughter, saying "Zoo staff is very pleased with the baby giraffe's progress, it is truly amazing how far she has come in one day. She went from being barely able to stand, to skipping back and forth to mom. The attached photo is one taken overnight last night, the baby spent alot of time curled up sleeping last night. Vivian, who normally spends alot of time laying down overnight, simply stood close to her calf all night last night."
What are your thoughts on Vivian's incredibly long pregnancy? Sound off in the comments!