NEWS
Jen, Nicole & Adam 'Just Go with It' in Hawaii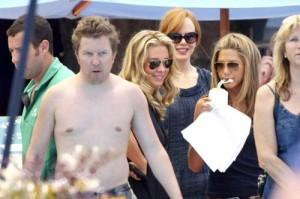 Nicole Kidman and Jennifer Aniston seemed to get a giggle out of watching their co-star Nick Swardson walk away from them yesterday in Maui, Hawaii. The ladies are in the midst of filming Just Go with It, a rom-com also starring funnyman Adam Sandler.
Hanging out in Hawaii and having fun with your co-stars? Must be a tough life!
On Monday Jen and Adam really bonded on set — sharing a big smooch for one of their scenes!
Article continues below advertisement