PHOTOS
Jim Bob Duggar Shares The Best Throwback Pics Of Him & Michelle For Valentine's Day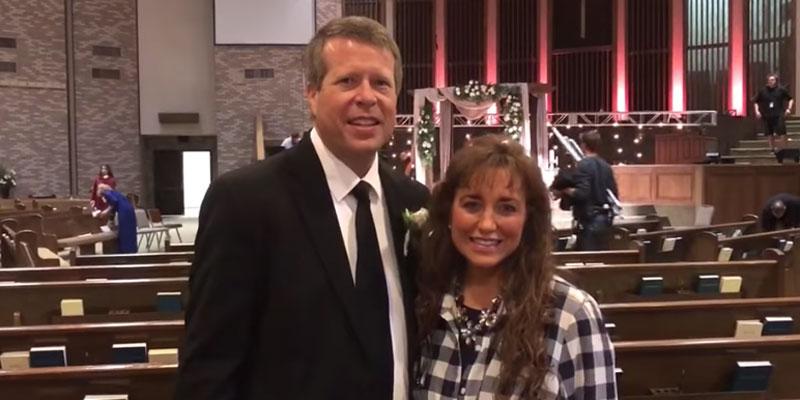 Jim Bob Duggar wrote an open letter to his wife Michelle in honor of Valentine's Day. In addition to the sweet note, the former 19 Kids and Counting star posted a series of priceless throwback pics of him and his wife of 35 years.
For more Duggar news, listen to our Dishin' on the Duggars podcast below.
Article continues below advertisement
"To My Dearest Michelle, You are the sweetest wife any guy could ever have," Jim Bob began. "You are beautiful inside and out. Words cannot fully express how deeply I love you!"
Jim Bob, 53, called Michelle, 52, his "best friend" and praised her for being a "great mother and grandmother" who is "sensitive to others."
Article continues below advertisement
The dad of 19 also looked back on their hard times, including the death of Michelle's parents and his father, their daughter Josie's premature birth, their 20th child miscarrying, and "counseling our kids through the teenage years."
Jim Bob called Michelle the "greatest blessing" in his life and thanked her for "birthing all 19 of our kids."
Article continues below advertisement
He also thanked his wife for "loving me in spite of the times I have wrong responses or wrong attitudes." "You are a precious ruby," he added.
Jim Bob finished by telling Michelle he was "looking forward to the next 35 years."
Article continues below advertisement
At the end of the letter, Jim Bob also included a series of throwback pics of him and Michelle, including an adorable one from when they were just dating. In one photo, Jim Bob sports a Canadian tuxedo as Michelle poses with a very pregnant belly.
There's also a photo of the family when they had just seven kids! Click here to see the throwback pics.
What do you think of Jim Bob's open letter to Michelle? Sound off in the comments below!