NEWS
K-Stew Stops By R-Pattz's 'Remember Me' Premiere in NYC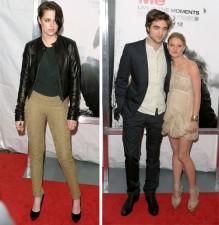 Robert Pattinson had plenty of support for his newest movie, Remember Me, which premiered in NYC Monday night: Not only was he joined by his co-stars in the film, Emilie de Ravin, Chris Cooper, Pierce Brosnan, Ruby Jerins and Lena Olin, but his Twilight Saga castmate and real life girlfriend Kristen Stewart also made an appearance on the red carpet at the Paris Theatre.
While K-Stew skipped the press line and only posed briefly for pics, Rob took the time to stop and chat, telling OK! his favorite part about NYC.
Article continues below advertisement
"Ah, the Village," he told OK!. "I just like being able to walk around everywhere."
That is, when he's walking without a legion of fans following his every move, which isn't too easy these days!
MORE PICS FROM THE REMEMBER ME PREMIERE:
So how is Rob's character in Remember Me, Tyler different than that brooding, romantic vampire, Edward Cullen, that his fans know and love so well?
"I think Tyler has more commitment problems than Edward. And Edward has pretty profound commitment problems," Rob joked, adding when asked if he had similar problems, "Awful!"
OK! VIDEO: ROBERT PATTINSON PUSHES REMEMBER ME ON TODAY SHOW
All the stress of promoting and filming movies is getting to Rob, he admits.
"I was getting very emotional. I was just on Late Night with Jimmy Fallon earlier and I was walking out thinking, 'I'm going to start crying,' " admits Rob. "This seems to be very bizarre. It's never really happened to me. I'm just thinking, I've got to start working again. I don't know how long I can keep it up."
Poor guy! He'll catch a break soon however, as he likely won't have to deal with the red carpet again this Sunday at the Academy Awards.
OK! NEWS: ROBERT PATTINSON PROBABLY NOT ATTENDING THE OSCARS (SIGH)
We're sure Kristen will help him have fun before they have to promote for Eclipse — the twosome headed to the premiere's after party together at the Plaza Hotel.
Reporting by Laura Lane