NEWS
The Kardashians Keep Up 'Konfidential' Appearances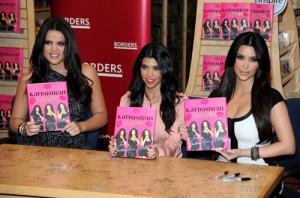 These sisters are like the Energizer Bunnies of celebrity — when it comes to promotional appearances, they keep going, and going, and going... The dedicated reality TV triumvirate of Khloé Kardashian Odom and Kourtney and Kim Kardashian kept their energy going signing copies of Kardashian Konfidential at Borders Century City in L.A. on Thursday.
OK! GALLERY: KHLOE, KOURTNEY & KIM KONDUCT KONFIDENTIAL BUSINESS
Article continues below advertisement
The Kardashian gals are so serious about their brand, they don't mind saying some really outrageous things when they're out promoting it!
OK! VIDEO: KARDASHIAN SISTERS SPREAD MAYONNAISE... DOWN WHERE?!
Last night the girls admitted on Conan O'Brien's show to using mayonnaise "down there" to make it "shine like the Chrysler Building."