NEWS
Katherine Heigl Puffs During Dinner In L.A.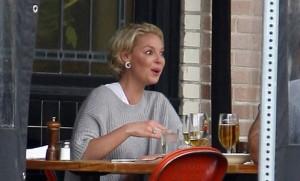 Katherine Heigl met up with a friend for dinner and a few good laughs last night at Little Dom's in L.A. Katherine was spotted puffing at a black cigarette, but no worries, it's only an electronic one, a SmokeStik. Katherine has been spotted sucking away on this for a little while now as she is trying to kick the nasty nicotine habit!
Article continues below advertisement
According to DailyMail, she's said, "You start once a week, maybe with a cocktail with friends at a bar, and then you buy your first pack during a really stressful break-up, and then it's downhill from there. I've tried everything. I've tried the patch. I've tried the gym. I've done the Chantix, twice, which made me bananas." We have faith in you Katherine! Kick the nasty habit!
MORE ON:
Katherine Heigl
Get The Top 6 Celeb-Loved Skincare Products For Under $60, Used By Alexandra Daddario, Alicia Keys, Katherine Heigel, Lori Harvey, Ruby Rose, More — Shop Now
Slammed By The Stars: Kim Cattrall, George Clooney, More Spill The Tea On Toxic Work Environments, Horrible Costars, Terrible Projects
Katherine has been filming New Year's Eve, which is also starring, well, everybody! The long star studded cast list includes celebs like, Robert De Niro, Ashton Kutcher, Lea Michele, Sofía Vergara, Zac Efron, Jessica Biel, Halle Berry, Michelle Pfeiffer, Abigail Breslin, Hilary Swank, Sarah Jessica Parker, Sienna Miller, Sara Paxton, Frankie Muniz and even more!