NEWS
Katy Perry & Russell Brand Reunite in the Big Apple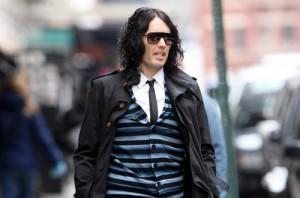 While Russell Brand is busy promoting his new flick, Arthur, and wife and pop star, Katy Perry, is off rocking out on her Californa Dreams World Tour, the two seem to have both landed in NYC to spend a bit of time together. Katy and Russell were both spotted in Tribeca NYC yesterday out and about near their apartment.
Article continues below advertisement
Russell celebrated the premiere of Arthur earlier this week in the Big Apple alongside his co-stars, Helen Mirren, Greta Gerwig and Jennifer Garner. The 1981 remake hit theaters today!
As for Katy, she's set to jet back off to London tomorrow for her concert at Wembley Arena on Saturday night.