PHOTOS
LC Supports Audrina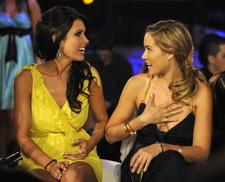 Celebrities, especially reality stars, are not exactly known for sticking around when one of their famous pals is stranded in a sea of negative publicity. And given the catty behavior on Laguna Beach and The Hills, many people would not have been shocked if Lauren Conrad had distanced herself from on-and-off-screen buddy Audrina Patridge after scandalous topless shots of Audrina suddenly became the most popular thing on the Internet last week.
Article continues below advertisement
However, when OK! caught up with LC, she had nothing but good words to say about her caught-on-camera comrade. "I feel bad for Audrina," Lauren explained to OK!. "But she's a strong girl and I know she'll make it through this."
Speaking for herself in the wake of the photos being leaked, Audrina wrote on her MySpace blog, "I intended them to be artistic and not in any way provacative. I was naive, overly trusting of people and inexperienced... I'm not ashamed of these photos, but I don't want my young fans to think they have to do what I did."
The pics were eventually sent to Playboy for consideration and fell into the wrong hands. (Audrina's rep insists they were never sent to the mag.) And as for releasing them herself to drum up publicity, friends of the MTV star say it's not possible.
For even more about Audrina's nude news, pick up the new issue of OK! — on sale everywhere Thursday.