NEWS
Lilo Goes Back to Blonde in Beverly Hills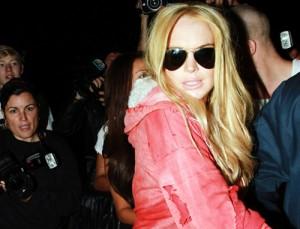 Recent L.A. court favorite Lindsay Lohan is returning to an old look — her blonde locks! LiLo left a hair salon in Beverly Hills yesterday where she reportedly spent nine hours transforming back to the brighter side of the hair color spectrum. Lindsay's hair was the darkest we've seen it during her court hearing on Monday. Is she turning over a new leaf with the lighter locks?
Judge Revel was strict on the starlet in court Monday, setting very specific conditions of Lindsay's bail in her DUI probation violation.
Article continues below advertisement
Judge Revel said: "Those conditions were and are to be the following: That she will as a condition of remaining out on bond, drink no alcohol, have a SCRAM device put on within 24 hours of today's proceedings, submit to random drug testing at the rate of once per week… she must attend all of her alcohol classes as scheduled unless the class interferes with a random drug test, the random drug test will take priority, that will be the only way she can miss a scheduled appearance."
MORE ON:
OK Galleries & Photos
OK! NEWS: AARON CARTER ON EX LINDSAY LOHAN: "YOU DESERVE IT"
LiLo's lawyer Shawn Chapman Holley tried to negotiate an agreement that would be more accommodating to her client's filming career, however, the judge wouldn't grant Holley's request.
So will Linds' blonde look keep her out of jail and on the straight and narrow? Maybe for now.