NEWS
Matthew & Levi Zip Around Central Park Zoo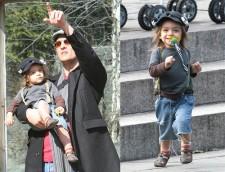 Matthew McConaughey spent Wednesday afternoon with his son Levi McConaughey at the Central Park Zoo in NYC. Dad pointed out the animals to Levi, who couldn't have been any happier! "Matthew was really sweet with him," a spy tells OK!. "He picked him up when they got out of the car and they held hands."
OK! GALLERY: MATTHEW & LEVI MCCONAUGHEY MAKE A BREAK FOR IT
Matthew and his son Levi, who was dressed like an adorable little Oliver Twist, spent almost two hours at the Central Park Zoo playing at the park, an eyewitness tells OK!. The father and son spent most of their time looking at the sea lions in the center fountain area of the zoo.
Article continues below advertisement
Matthew seemed very hands on with Levi and patient, the spy explains to OK!.
But, Matthew was the main attraction for other zoo-goers!
OK! GALLERY: MATTHEW MCCONAUGHEY HEADS HOME AFTER A HARD DAY'S WORK
The moms at the zoo were going really crazy for him," the spy tells OK! "There was a group of four moms and their tots who had been standing near Matthew and after he left they were giggling like school girls!
When asked if he was cute, one woman said, "Do you mean Matthew or the son? They were both adorable!"
A few other moms snapped pictures on their camera phone and one was overheard saying she couldn't wait to look up whether it was the son or the daughter because she wasn't sure!