PHOTOS
Michael Jackson's 'Aura Was Mesmerizing'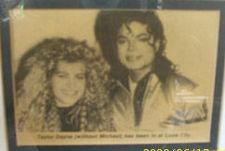 Taylor Dayne witnessed Michael Jackson at the height of his fame.
"I opened for him during his Bad tour in Europe," the singer, 47, whose hits include I'll Always Love You, With Every Beat of My Heart and Love Will Lead You Back, tells me. "It was 1988. I just had the #1 single throughout Europe -- Tell It To My Heart -- and Prove Your Love was climbing the charts in Europe and just breaking in the States. I played a month of dates at stadiums from Nice to Barcelona to Wertzberg, Germany. This was at the absolute height of Michael Mania."
Article continues below advertisement
She says, "Michael was gracious to me. And extraordinary to watch as an entertainer, the mesmerizing effect his show and aura had on people. From his huge entourage and entire crew, his band who on backup was Sheryl Crow, to the dancers and production ... it was a traveling circus and fun. I was the new sensation and Michael's manager Frank DiLeo two years later began managing my career from meeting during that tour."
SEE TAYLOR'S 'I'LL BE THERE' TRIBUTE TO MICHAEL JACKSON:
Beyond music, Taylor followed in Michael's footsteps in at least three ways: She performed for President Bush (him, H.W.; her W.) , delivered her children through a surrogate and has copped to cosmetic enhancements.
Despite all her success, she calls the birth of her twins Astaria and Levi, 7, her proudest moment.
"They're pretty divine," she says. "They're young. They're blessings. I went for it, and I did it as a single mom. They're precocious, alive, fantastic, thoughtful and every day they're bringing home something new and different. I'm very proud of this achievement, and I'm very proud they chose me and I'm their mom."
Article continues below advertisement
She stays true to her 80s roots by remaining friends with Paula Abdul, and holds onto her mementos.
"I have a couple of costumes," she says. "I have that skirt from the Tell It To My Heart video, which is still a closet piece from living on Eighth Street and Second Avenue, Love Spit Love and all that stuff. God, you look around and you see your gold records and your platinums. Those are always prized possessions. Those are reminders."
SEE MORE PHOTOS OF MICHAEL JACKSON:
Michael lives on through his music and remarkable legacy.
Taylor Dayne's latest album, Satisfied, featuring the hit Beautiful is in stores now, and she's in the studio rerecording her greatest hits for release in 2010.