NEWS
The WWE Superstar Breaks Down How To Keep ANY Relationship Spicy & Fresh!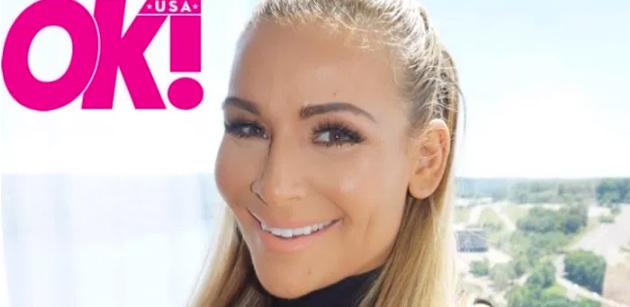 Fifteen years is a long time to be with someone! Man, it's hard to believe that I'm going on 16 years with my husband TJ. Married since 2013, it really helps that we share the same passion in wrestling! But just like anything, we always work towards keeping a relationship fun and exciting.
One of the things that I love that TJ does, are his handwritten notes. It's always great when I get on the plane, and I'm feeling exhausted after racing to make my flight.
Article continues below advertisement
I love opening up my purse, and there is a letter from him in his own handwriting. When I'm on the road, and I feel lonely, all I have to do is read the letter he wrote me and I instantly feel better. I like to leave notes for him as well. Like before I head to Smackdown, I'll put a little note on the fridge, just to let him know what he means to me.
In this day and age, with social media and technology we can lose sight of how important a simple letter written by hand is. And it truly is one of the little things that helps keep us connected. Staying connected is a big deal. And it's very important in keeping a relationship fun and exciting.
TJ and I also love doing date nights. Sometimes we dress up, sometimes we don't, and sometimes we meet friends and sometimes it's just the two of us. We put our phones away, as hard as that is! And we just try to focus on each other and catch up. As busy as our schedules get, making the time, even if you have to make it like an appointment, it's important to stop and smell the roses (and the sashimi!)
Article continues below advertisement
One thing I love to do with TJ, is help him pick out his dress clothes! For some reason it's become a fun thing that we do together. We go and pick out suits, ties, and shoes. I love seeing TJ release his inner Matt Damon! But I also think it's just a process that we like. And it's not something TJ normally does. TJ hates shopping. But he loves to look nice. So that's why we take the shopping out of it, and he lets me pretend I'm a stylist since I love clothes and fashion. Move over Rachel Zoe!
TJ and I like to do movie night at our house. It's kind of like our Netflix and chill night in! So much of our lives we spend traveling around the world, so when we actually are home, sometimes we like to stay in and watch our favorite shows. Right now we're totally hooked on that new show GLOW. I never thought my husband or I could be more into women's wrestling than we already are. It's fun to lounge on the couch in our PJs, eat ketchup potato chips, and binge watch our favorite shows. It's fun and stress free.
Relationships are a lot like exercising! You can't just exercise once and get results. You have to continuously work at it in order to make it great. I'm ALL in!