PHOTOS
OK! Cookbook: Dance War Feast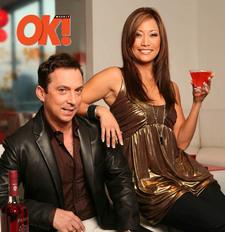 Though they may get into heated arguments on Dancing With the Stars, there was no food fight between Carrie Ann Inaba and Bruno Tonioli when they dined with OK! at Los Angeles restaurant Ketchup. Currently facing off on ABC's Dance War, the two forgoed diets to chow down on burgers, hot dogs and fries, topped off with strawberry shortcake for dessert! And you can do just the same — check out the recipes below!
Article continues below advertisement
Barking Dogs Chili
Serves: 8
Prep time: 15 mins
Cook time: 40 mins
Difficulty: Easy
Ingredients
Olive Oil
1 yellow onion, diced
1 garlic clove, diced
1 tbsp. shallots, diced
1 Ib. ground beef, chuck or Kobe
1/2 cup tomato paste
1/2 cup tomato, diced
1 cup beef broth
1/2 tsp. chili powder
1/2 tbsp. garlic salt
Instructions
1. Sauté onions in olive oil over medium heat until they're translucent.
2. Add garlic and shallots to the onions, saute until golden brown.
3. Combine ground chuck, tomato paste and dice tomato to your saute and slightly increase the heat.
4. Add spices to ground chuck. Once your ground chuck is completely coated add stock and simmer for 30 minutes.
Strawberry Shortcake
Serves: 10
Prep time: 30 mins.
Cook time: 12-15 mins.
Difficulty: Medium
Cake ingredients
2 3/4 cups cake flour
1/4 cup sugar
1 tbsp. + 1 tsp. baking powder
1 tsp. salt
10 tbsp. chilled unsalted butter, cut into 1-ounce pieces
Article continues below advertisement
1 cup heavy cream
1 tsp. orange zest
1 tbsp. Grand Marnier
Instructions
1. Combine all the dry ingredients in the Kitchen Aid mixing bowl. With the whisk attachment, work on medium until mix is combined.
2. While the flour is working in the mixing bowl, put the orange zest in a cold stainless steel saucepan, and put flame to medium. When you can smell the orange zest, add the Grand Marnier and flambé. Remove as soon as the flame dies out, and add the zest to the butter.
3. Add the butter to the dry ingredients.
4.When the mixture has come together, use the dough hook and pour the cream in a smooth thin stream. Before the dough forms a ball, remove from the mixing bowl and finish on a lightly floured surface by kneading.
5. Do not overwork. As soon as the dough is not sticky, roll out to 3/4-inch thick, punch out rounds, brush with egg wash, place on a greased baking sheet into a preheated 350F oven.
Article continues below advertisement
6. Bake until gold, around 15 to 20 mins.
Strawberry filling ingredients
2 pints fresh cut strawberries
1 pint vanilla bean ice cream
1 sheet pan of fresh baked short cake or 10 pound cake rounds
Instructions
1. Cut the short cakes in half and place strawberries on the bottom half of the short cake.
2. Place one scoop of ice cream on the strawberries and add the short cake top. Place in the freezer for 10 minutes and serve with powder sugar or whipped cream.
For more on Carrie Ann and Bruno, check out their , read their and pick up the newest issue of OK!, on newsstands now!