PHOTOS
OK! Exclusive: See Jessica Alba's Baby Tomorrow!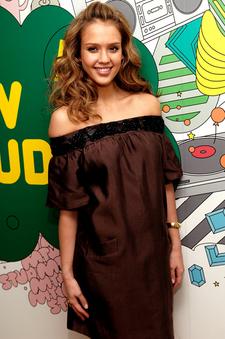 Honor Marie Warren was described by her proud grandfather as "the I had ever seen," and tomorrow you will get to see her exclusively at OK!. Make sure to check back Wednesday morning to see the very first photos of Jessica Alba's new daughter!
The actress became a Fantastic mom on June 7 when she gave birth to Honor Marie, her first child with husband Cash Warren. The couple announced their pregnancy -- a surprise -- in December and got engaged shortly after. Flying under the radar, the two, who met on the set of the first Fantastic Four in 2004, secretly tied the knot at a Beverly Hills Courthouse on May 19.
Article continues below advertisement
"Nothing was planned – the pregnancy or the wedding," Jessica admitted to U.K.'s Comopolitan. "But he took it in his stride and convinced me we'd conquer all!"
The pregnancy itself was "just chill" for Jessica and likened the experience to a sedative.
"Being pregnant is kind of like a sedative," . "Everything's just chill. I don't get as anxious about things. Like right now, a movie coming out, you know over analyzing everything. And now I'm just kind of like shrugs. I got something else going on."