NEWS
Olivier Wears His Halle-Related Emotions on His Shirt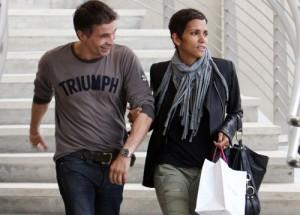 No need to ask Olivier Martinez how he feels about nabbing glamorous, gorgeous and talented Halle Berry — he's wearing his emotion on his shirt! The triumphant new couple were stuck to each other as they went shopping in Beverly Hills on Thursday. Olivier's also a motorcycle aficionado, so maybe his attire is referring to a bike. Or Halle. Or both.
Article continues below advertisement
Ever since they got together on the set of Dark Tide, it seems like they've been inseparable!
OK! GALLERY: HALLE & OLIVER ARE HOT IN HOLLYWOOD
Olivier might not be used to the paparazzi treatment just yet, as he covered his face with his hands at one point. As part of a new Hollywood power couple, he'll be seeing lots of cameras in the future!