NEWS
Owen Wilson, Reese Witherspoon & Paul Rudd Ask 'How Do You Know'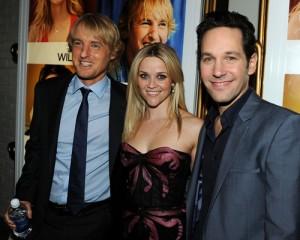 The A-list Hollywood trifecta that is Owen Wilson, Reese Witherspoon and Paul Rudd hit the red carpet Monday night for the premiere of Columbia Pictures' How Do You Know at the Regency Village Theatre in L.A. One thing we do know is Reese looked gorgeous in a Zac Posen mini dress and the two leading men by her side certainly know how to rock a suit — Paul even flashing some chest!
Jack Nicholson, who plays Paul's dad in the film, walked the carpet with his daughter and grandchildren.
Article continues below advertisement
Reese hit the premiere solo — maybe boyfriend Jim Toth was at home with her children!
OK! GALLERY: REESE WITHERSPOOON'S FAMILY SUNDAY WITH BOYFRIEND JIM TOTH
The couple seems to be heating up lately, spotted out together all over their home base of Brentwood, Calif.
So how does the leading lady know when she has found love in a relationship?
"I think my stock answer is that now I am just old enough to know now that I know nothing because I think when you are young you think you know everything and now I have just realized, you know, anything's possible," Reese told reporters at the premiere.
As far as working with Owen and Paul, the Oscar-winning actress couldn't pinpoint any particularly funny moments, because her whole experience with them was filled with laughs!
"They are very funny. They are just guys, they are really funny and always tell funny jokes," Reese said. "They make me joke. It would be hard to just capsulate it into one story."
OK! VIDEO: REESE WITHERSPOON TRIES TO FIND LOVE IN NEW TRAILER
In the romantic comedy, Reese plays as Lisa Jorgenson, a professional softball player, who's questioning love after she finds herself in a love triangle between a corporate executive (Paul) and a major league pitcher (Owen).
Reporting By Gena Oppenheim