NEWS
Rob & Reese Revisit 'Water for Elephants'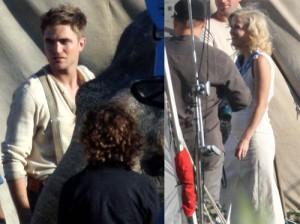 Could we please get a little water to the Water for Elephants set but give it to Robert Pattinson instead? He looks thirsty! Rob has been pulling double duty juggling his new film and promoting his old film The Twilight Saga: Eclipse. At least this time he had the cheerful company of Reese Witherspoon!
OK!'S ECLIPSE COUNTDOWN: SEVEN FUN FACTS ABOUT R-PATTZ
Rob and Reese were back on the Ventura Country, Calif., set on Wednesday, filming in the hot weather. Reese was all smiles while R-Pattz was looking more on the serious side. Maybe standing next to giant elephants makes him feel the need to focus!
Article continues below advertisement
OK! GALLERY: TWI-HARDS CAMP OUT FOR ECLIPSE
Yesterday may have been about Water for Elephants, but today is all about The Twilight Saga: Eclipse for R-Pattz. Tonight is the L.A. premiere where he'll be reunited with his co-stars, who have been traveling around the world without him!