PHOTOS
Rumor Mill: Zac & Vanessa Go Splitsville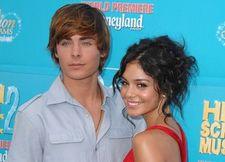 Sources close to High School Musical co-stars, and offscreen sweethearts, and , tell OK! that the adorable couple have officially gone their separate ways.
According to the source, while Zac was away in Europe promoting Hairspray, Vanessa was at a Hollywood Hills party, where eyewitnesses say she was "all over" her older, not-Zac date. And when someone dared to ask about Zac, Vanessa "threw a fit and said 'don't mention his name!' "
Article continues below advertisement
After his return home to L.A., the pair were spotted Sunday night driving together in Zac's car, though the mood looked anything but festive.
This is only the latest bad news surrounding the adorable co-stars. Nude pictures of Vanessa recently surfaced on the Internet, causing her to cancel an appearance on The Tonight Show With Jay Leno last week, and shedding some doubt on her future with Disney's mammoth High School Musical franchise.
A rep for Vanessa says the story is not true.