NEWS
Sexy Shakira Allows Herself Some Sugar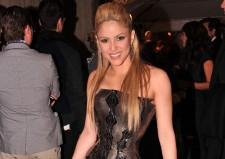 As if there was any doubt, Shakira appeared on Saturday Night Live last week and showed us all that the hot body she had in her music video for "She Wolf" really does exist. On Monday, Shakira told reporters on the red carpet at the Whitney Museum of American Art Gala in NYC what her secrets are for maintaining her sexy frame. Shakira worked hard to get her body "She Wolf" ready, and admitted that the video really required a lot of preparation.
Article continues below advertisement
"Training. Dancing many hours a day," she added of her routine. "I love dance aerobics and abdominal exercises."
No one's perfect though, as Shakira reveals the weakness that she allows herself to give into: Chocolate.
"I'm a chocolate addict. Oh yeah," she admits. "So I have to work twice as hard because I can't quit chocolate. I can't quit sugar. That's the one thing I can't quit."
Shakira always works hard on her videos, but explains that this album is especially meaningful to her.
"It's so representative of the moment in which I am," she says. "The way I see the world. The way I see myself. It's written from a feminine perspective, since I feel more like a woman today."
Reporting by Valerie Nome