PHOTOS
Pink Tries To 'Practice The Flu Away' 24 Hours Before Singing National Anthem At Super Bowl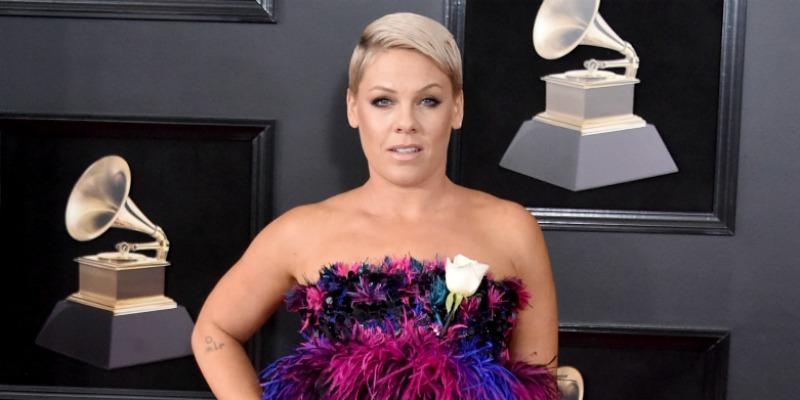 Just one day before she's scheduled to perform the national anthem at the Super Bowl on Sunday night, Pink has revealed she has the flu! The singer let fans know that while she's doing all she can to "practice the flu away," she's not sure the show will be able to go on — even though this is one of her lifelong dreams.
Article continues below advertisement
"Trying to practice the flu away," Pink captioned the picture of her rehearsing "The Star Spangled Banner" in Minneapolis, Minnesota today, where she has a giant scarf wrapped around her sore throat! "I've been waiting to sing this song since 1991 when I saw my idol, Whitney Houston, own this song. And now, my chance has finally come."
"And it just so happens that this chance comes when I have two small Petri dish kids who literally cough INTO MY MOUTH and rub their snot on my cheek. You can't write this stuff I swear!" Pink continued, blaming her sudden illness on her two children, Willow and Jameson.
Article continues below advertisement
"And here we are. I've arrived at another one of my dreams which is slowly becoming a sort of nightmare," Pink admitted.
"I will tell you, this is one of the biggest honors of my life, singing this song in front of my family, my military family, my dad and brother and step mama and family and the world. And the EAGLES!?!?!" Pink gushed.
Article continues below advertisement
"I promise I will do my best, as I always do. As far as the gremlins that got me into this mess, you can cough at me for the rest of your lives. If it's a contest, babies, you win," she finished, adding the hashtags, "#spreadthelove #spreadthegerms #pleasegivememyvoiceback #ificansingimgonnakillit."
Do you think Pink will still be able to perform tomorrow night? Sound off in the comments below!