NEWS
Speidi Split a Farce; Devious Duo Has Birthday PDA Fest at Zoo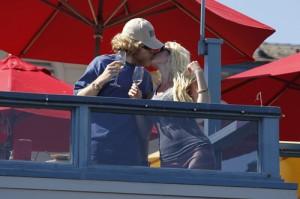 Because zoo animals bring out the romantic side in all of us, Heidi Montag and Spencer Pratt chose the Santa Barbara Zoo as the backdrop for their staged reconciliation. The on again/off again reality couple spent Heidi's 24th birthday with wildlife, putting on a PDA-fest of hand holding, shoulder leaning and of course a makeout session under the sunny skies on a bridge, complete with glasses of champagne.
Article continues below advertisement
Looks like Heidi is still recovering from some revisional plastic surgery she had done on her nose. The plastic blonde beauty also opted for a casual ensemble for her birthday extravaganza at the zoo. Feeding animals can get messy!
Spencer is holding on strong to his new bearded caveman look. Reportedly, he treated Heidi to lobster and fish on the Santa Barbara Pier for her birthday dinner.
After dinner, Spencer allegedly talked about being arrested in Costa Rica and his advice for other Costa Rican travelers.
Heidi stood by her man after he was detained at an airport in San Jose, Costa Rica for illegal arms possession, and Spencer is now hopeful that Heidi may drop her divorce papers.