NEWS
Stars Show the Lakers Some Love in L.A.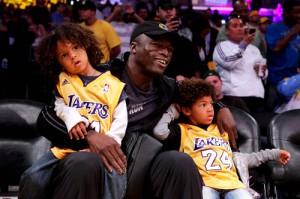 Leonardo DiCaprio and Bar Rafaeli are known lovers of the Lakers, but Heidi Klum's husband Seal introduced two new fans to the young fans to the sport on Tuesday. Seal and his two sons attended the Los Angeles Lakers vs. Oklahoma City Thunder complete with jerseys and all! But Leo, Bar and many other stars also showed the Lakers some love!
OK! GALLERY DAVID & CHARLIZE SHARE THEIR LOVE FOR THE LAKERS & PLAID
Article continues below advertisement
There is something about a Lakers game that really gets the stars going! Dustin Hoffman, Jack Nicholson, David Arquette, Adam Levine, Tom Welling and even Kris Jenner were on their feet in the Staples Center yelling and cheering!
OK! NEWS: LEONARDO DICAPRIO CATCHES A LAKER GAME
The excitement was almost too much for Seal's sons to handle as they sometimes had to cover their ears!