NEWS
'Tranformers 3' on Location with Action Doubles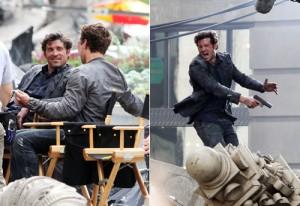 Looking at pictures of Shia LaBeouf and Patrick Dempsey filming intense action scenes for Transformers 3 in Chicago on Saturday, there's only one thing crossing our minds: please, please don't do anything to your beautiful faces! Don't worry girls, we can rest easy — the Transformers hotties used stunt doubles for the really crazy stunts!
Article continues below advertisement
There's even a picture of Shia's double in the gallery, think you can spot the difference between the real Shia and his double? It's pretty hard to tell!
Newcomer to the series Patrick looks comfortable with his action shots and bonding with co-star Shia between takes. We hope he doesn't get too hurt, but if he does, he can always channel Dr. McDreamy!