PHOTOS
Victoria Beckham's Daughter Harper & Son Cruz Baptized — Find Out Who Their Godparents Are!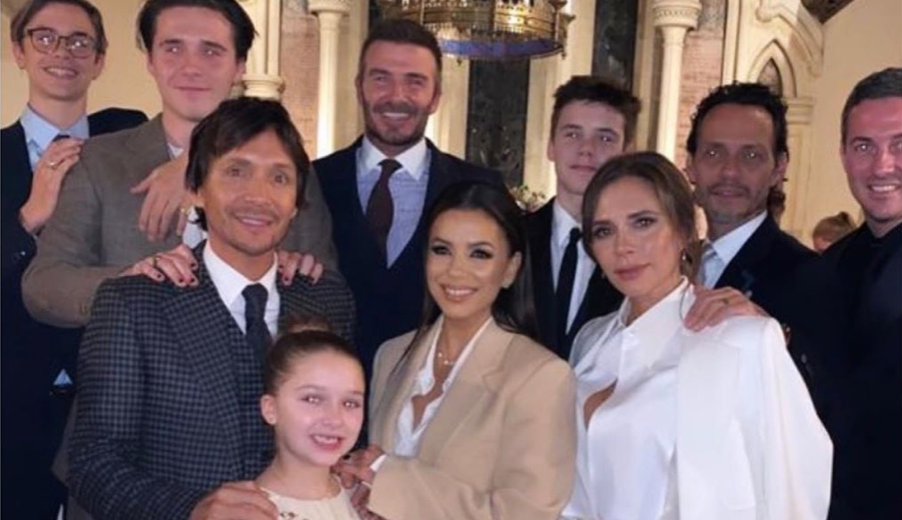 Victoria Beckham and husband David Beckham are two proud parents! The couple's youngest children, daughter Harper, 8, and son Cruz, 14, were baptized on December 21.
Article continues below advertisement
Actress Eva Longoria and singer Marc Anthony were the among the lucky ones named as their godparents. Victoria, 45, took to Instagram and congratulated her children on their special day, The mother of four commemorated the momentous occasion with a cute snap of Cruz and Harper standing next to each other as they were dressed in their church's best.
"Proudest of days today watching Harper and Cruz being baptized in front of our friends and family ?? So much to be grateful for x. With love, VB x I love u @davidbeckham x," she captioned the photo.
Article continues below advertisement
"I couldn't be more proud of my children and thankful to my family, and the most wonderful Godparents ??. We love you @evalongoria @kenpaves @marcanthony @davidgardner x kisses," Posh Spice captioned a second pic. The snapshot featured her oldest kids, , 20, and , 17, as well as many other friends and family.Eva, 44, posted the same photo on her Instagram and wrote, "What an honor to serve as Godmother to the sweetest little girl in the world! Love you #HarperSeven???."
David, 44, took to his own account to pay tribute to his kids. "Very proud day to see my babies get baptized on such a perfect and beautiful occasion.. Looking as beautiful and as handsome as ever.. We love you HarperSeven and @cruzbeckham ♥️♥️ @victoriabeckham @brooklynbeckham@romeobeckham ♥️♥️♥️," the iconic soccer star wrote alongside a photo of Cruz and Harper hugging.
Article continues below advertisement
Cruz sported a a dark gray suit, a skinny black tie and a gold safety pin under this lapel. Harper donned a cream-colored dress and gold satin ballet flats.
The Desperate Housewives alum recently dished to Metro UK how Harper is a great babysitter to her 18-month-old son, Santiago. "Harper's in love with Santi so that helps too. I have a built-in babysitter," she gushed.
"Victoria's an amazing mom. She's probably one of the first people I do turn to for advice for things," she added of the former Spice Girls member's mothering skills.
What are your thoughts on Cruz and Harper's baptism? Sound off in the comments below!