NEWS
Zac Shows Vanessa How to Shop in Style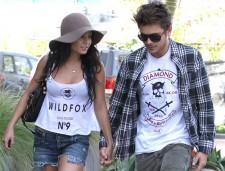 When Zac Efron and Vanessa Hudgens go shopping together, they do it in style! Zac and Vanessa checked out Kitson in Malibu on Thursday by cruising over there in Zac's Audi S4 convertible. Vanessa must be loving her floppy hat as she was just spotted wearing it out the day before. But this time Vanessa had Zac with her to remind her to remove the tags from her clothes before wearing them!
Article continues below advertisement
The cute casual looking couple enjoyed a nice stroll holding hands after most likely enjoying a fun ride in a fast convertible!