STYLE
OK! Look of the Day: Emma Roberts' Lace-Up Booties and a Varsity Jacket by Rachel Zoe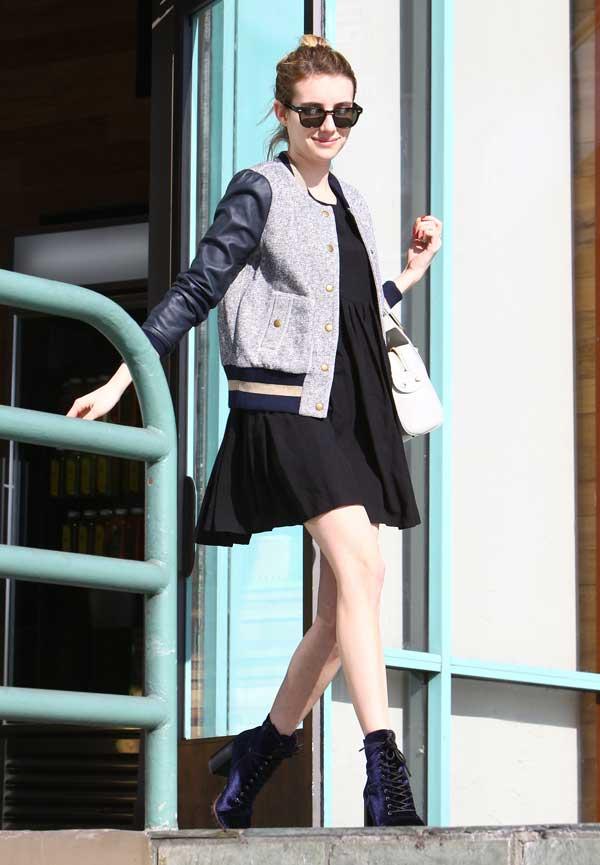 One celebrity style moment to study up on? That time when the newly engaged Emma Roberts wore a scholastic varsity jacket by Rachel Zoe over her black sundress. Can we still hand out style report cards—is that a thing? Let's just say it is, give her an A+, and give her over a storm of compliments for that sporty gem.
Emma Roberts Is Engaged to Evan Peters!
The young actress was spotted leaving a juice bar (the trendiest hangout spot of them all) wearing a black cotton sundress underneath a grey varsity jacket with navy blue leather sleeves. Yeah, this outfit is way better than any fantasy you might have had where you styled up Nathan Scott's basketball jacket.
Article continues below advertisement
Emma Roberts Was Arrested, But You'll Never Believe Why!
By rocking a casual LBD and accessorizing with lace-up leather booties, Emma completely and totally nixed the item's overly preppy reputation. If she wore it over a polo and pleated skirt, it would have been a theme-y fail that we might have mistaken for a Halloween costume. (er, "Baby One More Time") But this varsity jacket is a rebel—and oh my gosh, do we approve.
She's really been killing it lately. Looks like love is a plus in the style department. Now let's see that ring.
What do you think of Emma's outfit? Tweet @OKMagazine and leave a comment below.