STYLE
The PhilmGuy's DVD Review: 'This Means War' Starring Reese Witherspoon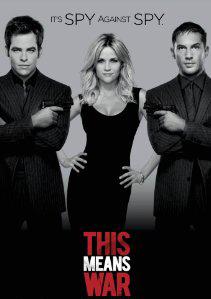 Red Tails — Executive produced by George Lucas, this by-the-numbers war film tells the story of the Tuskegee Airmen, a squadron of black World War II pilots who fought for their country and civil rights by battling the Axis. The cast is strong, with Cuba Gooding Jr. and Terrence Howard leading the charge, but the schmaltzy vibe drags down a film with a few impressive air combat sequences. The Blu-ray/DVD combo is loaded with featurettes that focus on the true story, Lucas's participation, Howard's performance, the cast and filmmakers.
Article continues below advertisement
OK!'S PHILMGUY REVIEWS THE LUCKY ONE STARRING ZAC EFRON AND TAYLOR SCHILLING
This Means War — Chris Pine and Tom Hardy play a pair of CIA operative pals who learn they're both dating the same businesswoman (Reese Witherspoon), and clash in spy maneuvers to win her favor and find out whom she's more attracted to. Director McG (Charlie's Angels), who is pretty good at handling action scenes, shows he's not so hot at crafting a believable, or even watchable, romantic comedy. The movie sputters toward its predictable conclusion, although Chelsea Handler is a bright spot as Witherspoon's overbearing BFF. The Blu-ray/DVD/digital combo includes an extended version of the movie, McG's commentary, deleted scenes and an alternate opening.
The Secret World of Arrietty Blu-ray — A Japanese adaptation of The Borrowers from acclaimed Studio Ghibli, the film explores a wavering bond between a 4-inch-tall girl, who is one of the last of her kind, and a sick boy at who is staying at a house she and her family are squatting. Those hoping for the magic of Spirited Away or Princess Mononoke will be let down, but the movie maintains Ghibli's reputation for gorgeous, hand-draw visuals. The voice cast, which includes Saoirse Ronan, Will Arnett and Amy Poehler, is another high point. Music videos and storyboards lead the slate of extras.
OK!'S PHILMGUY DVD REVIEW: BREAKING DAWN: PART 1 STARRING ROBERT PATTINSON AND KRISTEN STEWART
The Woman in Black — Daniel Radcliffe ditches the glasses to take on his first post-Harry Potter role, as an early-20th century lawyer dispatched to organize the estate of a dead client. There he's terrorized by an evil female spirit who is said to drive kids to suicide. The macabre, eerily-shot movie lathers up a few solid scares, but is burdened by a plot that's too jumbled to connect with. Radcliffe, though, proves solid acting chops. Filmmaker commentary, a look at Radcliffe's role and a comically presumptuous featurette titled "Inside the Perfect Thriller" make up the extras.