STYLE
Stylish Thoughts on Lana Del Rey's Chic and Casual Cannes Look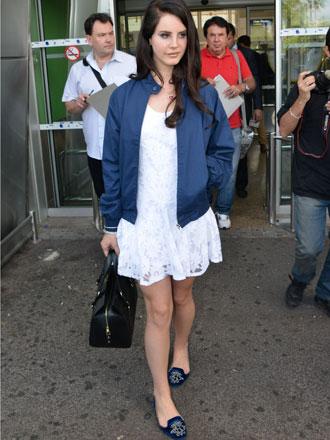 Our favorite part about the Cannes Film Festival, besides the movies that are being celebrated, is the celebrity fashion. This Lana Del Rey look isn't a red carpet standout, but it most definitely caught the OK! eye. Lana Del Rey is upping the standards of flying fashion. You know, the outfit you wear when you're jet-setting. The white dress is so girly and delicate, and we had to know what other fashion-lovers thought. Fashion editor Lorna Solano from The Fabulous Report gave us her thoughts.
Article continues below advertisement
"Lana Del Rey is summer ready. Her ensemble is effortlessly stylish but more importantly comfortable," says Lorna.
This outfit is surprisingly complex. Instead of pairing the dainty white dress with a pink frilly sweater, Lana picked a sporty blue coat. That was was a special gem for us, but Lorna liked another aspect. "I just love the eyelet dress. It is such a classic summer piece. I love the length on this one—not short but not long. It looks great on her," she says.
When it comes to the shoes, we were definitely surprised that Lana went with a trendy smoking slipper, even though it does match the color of her sweet coat. So we had to know—would Lorna try to recreate this look with the flats? The answer is no! She says she would go for a more classic pair.
OK! News: The Kardashian's Reveal Their Beauty Secrets!
Article continues below advertisement
If you're dying to covet this super fly flyin' outfit just as much as us, you may want to read on for shopping suggestions. Lorna says she would find pieces that looked similar to this at Forever 21 or Charlotte Russe.
"Every season, they churned out these really dulcet dresses that are just so wallet friendly. If you're looking for a more durable and classic piece, I would suggest LOFT they have these really cool colors that aren't overly bold but are bright enough for summer parties and events," she says.