NEWS
Fans Root For Roh Habibi -- Breakout Star of Million Dollar Listing San Francisco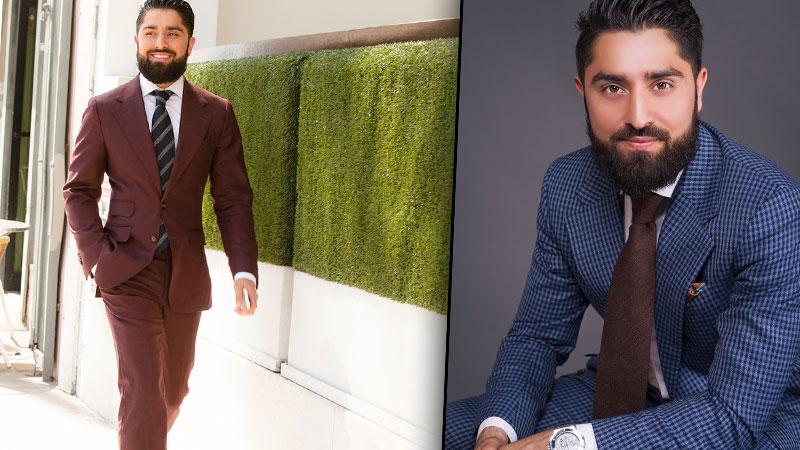 Roh Habibi never dreamt that he would one day become a television star. Habibi and his family fled Afghanistan when he was just 3 years old, and set out for a new life in America. After settling in the San Francisco Bay Area, Habibi's parents worked hard to support their children and their dedication and perseverance has paid off. After graduating from University of California – Berkeley, Habibi entered a career in finance but had long dreamt of pursuing his passion for real estate. Habibi made his dream a reality three years ago when he began his career as a real estate agent in San Francisco.
Article continues below advertisement
In fact, Habibi manifested his role on Bravo's Million Dollar Listing. Before the show was developed, Habibi wrote in his bio and on social media "Future Star of MDLSF." This caught the eyes of Bravo casting directors and before he knew it, Habibi was cast in a lead role on the series.
After the last week's season premiere of Million Dollar Listing San Francisco broke records as the highest-rated season premiere in franchise history, we caught up with Habibi to find out what it feels like for his dreams to come true.
OK!: Your show is a ratings success. How does it feel to start off with a bang?
RH: I am grateful and humbled by the response. My parents gave up everything for me and that is what drives me to succeed, I want to provide for them and my wife and daughter, and want to make them proud.
OK!: You didn't know your co-stars before filming. What was it like to meet them on camera for the first time?
RH: I loved that we met for the first time while filming the show. It is awesome that the viewers saw the moment we met and now they can see how those relationships evolve for better or worse.
Article continues below advertisement
OK!: Does that mean we are in for some drama?
RH: Most definitely. Real estate is a very competitive business and it saddened me when Andrew informed me that he purchased my domain name out from under me. I believe that good things happen to good people and I have compassion for those that must resort to unsavory tactics to gain an advantage. Things that are driven by bad intentions and negativity are a reflection of those that operate in that fashion. I am driven by a passion and a dream and truly want success for everyone.
OK!: Do you have any regrets about doing the show?
RH: No, not at all. This is my dream come true and I am working hard to create success. If I can do it, anybody can.
OK!: Is the show reality or is it scripted?
RH: Million Dollar Listing San Francisco is 100 percent real. It is not scripted at all.
OK!: Do you think your co-stars play it up for the cameras?
RH: I think we all do. The difference is that I am myself and like to play up the comedic components of the job. Andrew, for example, plays up the drama and dirty games. Personally, I don't think that translates well to the audience because it comes across as egotistical and mean. You'll have to tune in to watch to see if Andrew has a change of heart or if he continues as the villain.
Article continues below advertisement
OK!: Why do you think viewers should tune in and watch the show?
RH: Million Dollar Listing San Francisco is entertaining to watch. In addition to the beautiful backdrop of the city and its stunning properties, the viewers get to see me leave the office at the end of the day and spend family time with my beautiful wife and daughter. I'm the first family man on the MDL franchise and very proud to share my journey towards making my dreams come true. I have a long way to go but thankfully I am off to a good start!
Here is a sampling of what the twitter sphere is saying about Habibi:
"@Shakari: @RohHabibi is inspirational, humble a great father/family man and he can break dance! He and I need to be friends! #MDLSF"
"@sweetsam213: @Bravotv #MDLSF so far is my favorite one, bc @RohHabibi is so genuine and sensitive, he so not reality tv-ish."
"@SisterRoma: @RohHabibi your wife is gorgeous and your baby is the cutest little nugget ever!"
Article continues below advertisement
"@harrisnaemi: Much respect for @RohHabibi on #MDLSF and the way he portrays himself. #goodguy"
"@KatCalmetIpince: @RohHabibi happy to know you preserve you essence and that's what makes the real American Dream. From a immigrant to another one. #values"
"@manueljoyner: .@RohHabibi is easily the most likable agent on Million Dollar Listing: SF"
"@geo257764: @RohHabibi what am amazing story of your life and coming to America. so touching and emotional."
"@CJMorgs: @RohHabibi is BY FAR my fave on #MDLSF what a down to earth guy.. Will watch this show just for him and his adorable family! @Bravotv"
Watch Roh Habibi on Bravo's Million Dollar Listing San Francisco Wednesdays 10/9c.