NEWS
Kendra Gets Mad at the Scale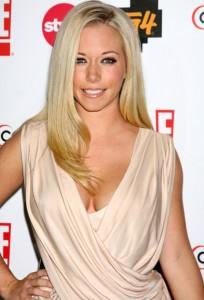 Kendra Wilkinson Baskett takes OK!'s Last Word interview in the issue on newsstands now.
The E! reality star, 25, who is a married mom, tells all in her memoir Sliding Into Home, which is in stores now.
This is what you won't find in the magazine.
Last time you ate at Papa John's?
The last time I ate Papa John's … wow. I think I ate it one time after I worked there. Just one time, and that was it. It's like a phobia now because the smell that was on my hands. I get really grossed out when I think of that pizza because I had to work with the pizza. laughs
Article continues below advertisement
Last time you felt guilty?
The last time I felt guilty is probably right now after looking at my really sexy dress, and I ate a lot of P.F. Chang's. laughs
Last time you felt angry?
Oh, the last time I felt angry was probably when I stepped on the scale. I get so mad at how hard I'm working out, and I look good, but it's not showing on the numbers. I'm like 'dang it!' Right now I feel like I've lost – and I look in the mirror like I've lost so much – but on the scale, it's not telling me that. Otherwise, I don't get angry.
Last time you worked out?
laughs You're getting me in trouble here. I've been busy, just to let you know. laughs The last time I worked out – a real good workout -- was probably a week ago. A good week ago. Yeah. But I call going up and down the stairs with the baby a workout. That was today. A week ago was a good workout with my trainer.
I have a treadmill at my house, and some weights and all that. He put me on a 10% incline and made me sprint up because I love just getting it done. I love sweating and burning those calories. I don't like to just walk, walk, walk. I like to get my heart rate up, and burn those calories. We also popped in my workout DVD, and I worked out to myself. cackles
Article continues below advertisement
Last time you went home to San Diego?
Last weekend I went home. I had a book-signing, and I went to my home that I grew up in. We had family time. My grandma got to a chance to see the baby and everything. It was a big reunion with all my friends. At the signing, we had a lot of fans. It was cool. It felt good to be back and thank San Diego for their support and everything.
Last thing you Googled?
I think it was about car seats – what's the perfect car seat to put on a plane?
MORE ON:
Red Carpet Confidential
Last date night?
Ooh, we've been busy. We've been together, but we haven't really had … yeah! Our anniversary. Our anniversary was definitely our date night. We went up to Seattle, and we went out. We dressed up. He wore his suit, I wore a black dress. I dressed up a lot – like really good for him. We went on top of the Space Needle, and ate on top of the Space Needle and had some wine. Later on … you know. No… laughs
Article continues below advertisement
Last time you spoiled your dogs?
A week ago we bought them new collars, new leashes. We shaved Rascal for the summertime and got he and Martini a bath. Sometimes we barbecue, and we give them some cheeseburger. laughs
Last time you saw your best friend?
The last time I saw my best friend Brittany was last weekend at my signing. She's in my book. I wanted her to be there because it was very important for her to be here because she's a part of my story.
Here's my pic with Kendra:
Pick up the OK! on newsstands now for the rest of Kendra's Last Word interview. The cover line is "Teen Mom: 'I'm Broke.'" And, check out her memoir, Sliding Into Home, which is in stores now.