NEWS
Michael Confirms: No Jackson 5 Reunion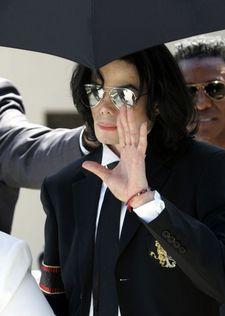 Contrary to rumors claiming Michael Jackson was teaming up with his brothers for a Jackson 5 reunion, the king of pop has confirmed the idea is, in fact, not "easy as abc."
On Thursday, the pop star's spokesperson issued a statement from Jackson explaining, "My brothers and sisters have my full love and support, and we've certainly shared many great experiences, but at this time I have no plans to record or tour with them. I am now in the studio developing new and exciting projects that I look forward to sharing with my fans in concert soon."
Article continues below advertisement
Meanwhile, just in time for Halloween, fans of Jackson's legendary hit "Thriller" gathered at Madame Tussauds wax museum on Thursday to try and break the Guiness Book Record of the most people doing a simultaneous "Thriller" dance.
If you remember back that far, "Thriller" debuted on MTV in Dec., 1983. The format and choreography resmbled more of a short film than a standard music video and inspired popular '80s dance moves. 25 years later, "Thriller" is still considered a cult classic.