NEWS
OK! Exclusive: Ana Ortiz on Lindsay Lohan & Sam Ronson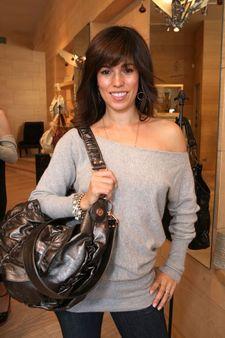 At the NYC premiere of Sisterhood of the Traveling Pants 2 on Monday night, Ugly Betty star Ana Ortiz opened up exclusively to OK! about working with Lindsay Lohan.
While Lindsay's been in NYC shooting her second guest appearance on Ugly Betty, it was another appearance on set that made headlines: the presence of Lohan's number one gal-pal Samantha Ronson!
"Sam came and visited, and she was great," Ana tells OK! exclusively. "She just hung out with us, just palled around with us and watched the goings on. They seem to have a really nice trust with one another."
Article continues below advertisement
So what does Ana think of the rumors that Lindsay and Sam are more than just good friends?
"I didn't see a lot of their interaction. Sam just sort of watched the scene and then they would go back to hair and makeup or to her Lindsay's trailer or to lunch."
Ana adds, "But no, they definitely seem to have a really nice, comfortable relationship where there's a lot of trust. That's hard to find."
The Ugly Betty star admits that joining the close-knit cast was probably a bit intimidating for Lohan, but the actress did her best to fit right in.
"I think at first she was probably a little bit shy," Ortiz says. "It's hard to walk into a whole new group of people that you don't know but luckily her first scene with us was a food fight, so she got to throw bagels and chicken and pizza. "She really got what our show is about and she really fell into the energy with us."
By Valerie Nome