NEWS
Paris: I Haven't Had My Boobs Done!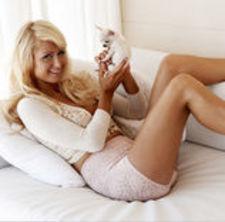 In this exclusive online interview, the infamous Hilton sister discusses everything from her career to her bosom with OK!'s Ryan Smith.
offered you, Britney Spears and roles on the next edition of The Apprentice. Will you accept his invitation?
We're looking at my schedule, but I don't know yet. It's hard because they're shooting it in the next month, and I'm leaving to go do my movie (Repo! The Genetic Opera!) for two months. I love Donald. I've known him since I was a little girl. I think he's a great guy and a great businessman. I respect him a lot.
Article continues below advertisement
There's been speculation that you recently had your breasts enhanced.
In my lingerie line, I have a bra that I designed for flat-chested girls and it makes your boobs look huge! People think it's fake boobs. Everyone's like, "Did you…?" I'm like, "No!" It makes me look like a double-D. I'm flat-chested compared to most girls in Hollywood.
Tell us about your next movie Repo! The Genetic Opera!
It's a horror musical film. The director, Darren Bousman, directed all the Saw movies ed. note: Bousman did not direct the original Saw; only the sequels. I did auditions and sang and danced for everyone. They said that I blew away every single girl that tried (to land the role).
Tell us more about your fashion line.
My clothing line is called Paris Hilton. It's with Doghouse. We just launched at Los Angeles store Kitson last week and we're launching at Macy's and Nordstrom next week. It's such a fun line. It has great dresses and skinny jeans and cute T-shirts. I designed everything. My clothes are for a girl who wants to stand out and make an impression.
Where do you hope your life will be like in the next five to 10 years?
I'll be married with kids and just be happy. Getting more involved in real estate and having my own hotels.
For more from , check out the current issue of OK!, on sale now!
By Ryan Smith