NEWS
PHOTOS: Rihanna Inks Her New Motto Onto Her Chest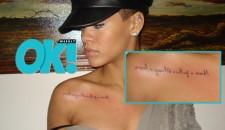 Say what you will about Rihanna, but the woman doesn't do things halfheartedly. Last night, the Rated R singer headed to NYC tattoo parlor East Side Ink — one of her favorites — and had her personal motto etched indelibly into her skin forever.
"She came in at about 2:00 A.M.," East Side Ink owner and artist Keith "Bang Bang" McCurdy tells OK! exclusively. "She told me in advance she'd be coming, and then when she got there, she told me what she wanted: 'Never a failure, always a lesson,' but written backwards."
Article continues below advertisement
CHECK OUT THE PICS FOR YOURSELF!
Bang Bang continues, "I asked her why she wanted that and she said, 'It's kind of my motto in life for everything.' Instead of considering things to be mistakes, considering them lessons."
He explains that RiRi, who he says is "doing great," wanted the phrase done in backwards writing so she would be able to read it in the mirror.
Because this piece of body art is so personal to Rihanna, the pop superstar decided she didn't want this new ink to be as obvious as the ones she already sports. "She said that she wanted to do it in gray, rather than black, because she wanted it to be more subtle," explains Bang Bang. "She didn't want it to draw too much attention."
Of course, Rihanna already drew enough attention to Bang Bang and East Side Ink earlier this year. Back in July, she caused a bit of a problem when she took tattoo needle in hand and inked him and a couple other patrons during a late-night session.
And then, only a few weeks later, ex-boyfriend Chris Brown paid a visit to East Side and did the exact same thing!