VIDEOS
Check Out What The Stars Will Be Eating At The Oscars Governor's Ball Tonight Courtesy Of Wolfgang Puck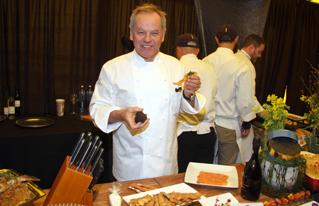 So they've dieted and squeezed into their sexy outfits and once they've sashayed down the Oscars red carpet and sat through the ceremony - are Hollywood's A-listers ready to tuck into delicious food prepared by celebrity chef Wolfgang Puck?
OK! News: Watch a livestream of the 2014 Oscars!
Well the answer is a resounding yes according to the Austrian-born kitchen wizard who is at the helm of the menu of the Governor's Ball for the 19th year.
Article continues below advertisement
Photos: See all the celebrities' Instagrams from the Oscars.
Wolfgang gave OKMagazine.com a sneak peek as to what the stars will be chowing down on tonight. And also check out the video for some great ideas for your Oscars party at home!
Fun Facts from the Govenor's Ball party—there will be:
* 1500 guests
* 950 event staff
* 350 culinary staff
* 1500 bottles of Theinot Champagne on ice
* 1300 farmed oysters