VIDEOS
Exclusive: Hot Chelle Rae on Justin Bieber "We Don't Want Him Jumping Us In the Parking Lot!"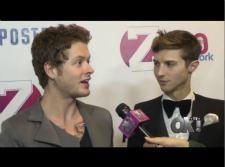 OK! chatted with Hot Chelle Rae backstage at the Z-100 Jingle Ball Friday night in New York City.
The guys explain why they WON'T be admitting Selena Gomez is a celeb crush, the posters they wish they had on their wall (hint: it's twins!) and looking up to Taylor Swift.
Keep checking back for more exclusive interviews from your favorite stars at Z-100's Jingle Ball!
Article continues below advertisement