NEWS
Golden Voice Guy Ted Williams on Matt Lauer: "He Brings Out the Female in Me"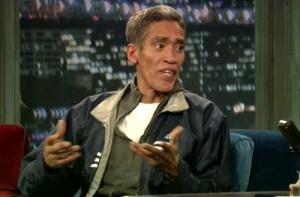 From homeless man to internet sensation, Ted Williams is skyrocketing to national fame with his golden radio voice. The Brooklyn native went from panhandling on various highways in Columbus, Ohio to raking in job offers from major outlets like the Cleveland Cavaliers, NFL, ESPN and the TODAY show. He already has been named the official voice of Kraft Macaroni and Cheese and his media presence has reunited him with his mother. Ted stopped by Late Night With Jimmy Fallon Thursday to talk about his whirlwind week!
Article continues below advertisement
"I thought it was a spoof," Ted told host Jimmy Fallon of being asked to announce on Today. "They said we'd love to have you on and by the way, NBC's 'Today' show is going to be here... and that just blew me away."
"The 'Today' show man, that's a hot show in the morning," he continued, expressing some strong feelings for one of them morning anchors: "Matt Lauer brings the female out in me."
OK! VIDEO: TED WILLIAMS' BRINGS HIS GOLDEN VOICE TO TODAY SHOW
Ted has already started doing voice overs for Kraft Macaroni and Cheese.
"The commercial, my first commercial that I cut today, will debut... this Sunday. When you hear the Kraft spot, that's my first spot," he said, becoming choked up.
This morning, Ted, 53, returned to Todau for an even more emotional segment: a reunion with his 90-year-old mother.
"Hi Mommy!" he said as they embraced.
Ted described the reunion as "a dream finally came true."
Article continues below advertisement
"I felt like I brought so much disgrace to this world," he added. "There wasn't much I could say."
His mother's advice: "Hold your life together. Just don't let things fall apartment when you fall in with the wrong people."
Ted is very open about his battle with drug and alcohol addiction, which led him to a life of panhandling.
"Please don't disappoint me," his mom reiterated.