VIDEOS
Makeup How-To: Maria Menounos' Crystal Lids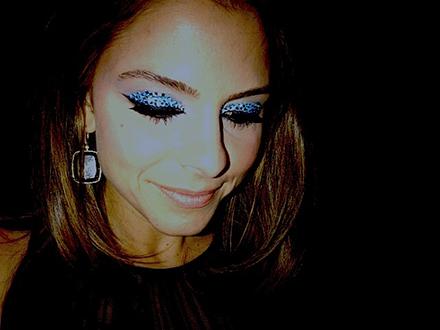 This might be one of the coolest eye looks I've seen—ever. Celeb Makeup Artist Nicole Bryl Make-Up New York applied 70+ blue Swaravski crystals to Maria Menounos' eyelids and here's how she did it:
Watch: Maria Menounos Reveals Her Fashion Secret!
Apply your everyday makeup first.
The, add a sharp black liquid line to the top of lash line flaring the outer edges out and up ever so slightly. Smoke under the lash line, but with a shadow that's not too dark. Add a touch of black waterproof eyeliner to the inside of eye.
Add waterproof mascara to top and bottom lashes. Apply strip lashes #18 from CVS.
Now the fun begins. Begin to apply Swaravski body gems to the eyelid one by one. Start with the very first one in the center of eyelid right above the black line and do the same on the other lid. This center rock will guide you to evenly distribute all the remaining gems. (Do not put gems on top of eyeliner. We want the eye line created to come through on it's own and give your eye definition.) Begin with one row, then move to the other eye so each row applied is more or less even to each eye. Then, build the second and third rows, etc. depending on how big your lid is. The trick is to not go too high up or else you won't be able to keep your eyes open! Open your eyes after each lie to make sure it feels ok before adding more. I used a tweezer to hold the gem and lay it on the lid. No adhesive was used as the Swaravski gems already have stickiness built onto each one of them.
I wanted to leave the gems as the focal point, so I added a very soft-colored lipstick and gloss.
News: Clean Out That Closet! Spring Cleaning Tips from Maria Menounos
Do you love this look as much as me (and Maria)?! Sound off in the comments below or on Twitter @OKMagazine!
Article continues below advertisement