VIDEOS
Mila Kunis' Stay-at-Home Confession—Can You Guess What It Is?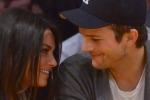 Is Mila Kunis ready to get really serious with Ashton Kutcher?
If her interview in the new issue of Marie Claire is any indication, Mila wants to settle down and concentrate on her home life. "I don't think I can do this three-movies-a-year thing," she says. "It's too much. There comes a point in your life where you want to be…home."
Photos: Hollywood's Most Gorgeous Couples
Home with Ashton perhaps? Now that the couple has taken it to the next level, the actress is also looking for ways to be with Ashton for longer stretches of time.
Article continues below advertisement
Watch: Why Michelle Williams and Jason Segal Broke Up
"I want to explore other parts of this industry to see what aspects of it I can get myself into, so that I can…work out of home maybe?" she says. "Like producing. Then I can have, like, a life, in one location."
Do you think Ashton is into the idea of more time with Mila? Tell us in the comments section and on Twitter @OKMagazine