NEWS
Robert Pattinson on Not Being Invited to the Royal Wedding: "I Was Shocked"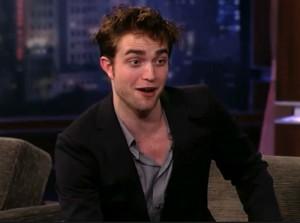 Robert Pattinson stopped by Jimmy Kimmel Live Wednesday night, continuing to promote his new film Water for Elephants. Screaming fans greeted the actor, who looked a bit embarrassed, but was flattered by the welcoming roar. And of course, Jimmy Kimmel's most pressing question for the heartthrob wasn't about his new flick.
"Are you attending the royal wedding?" Jimmy probed. "As an American, I assume every celebrity with an accent is invited."
Article continues below advertisement
OK! VIDEO: ROBERT PATTINSON SAYS HIS ELLEN DEGENERES UNDERWEAR MADE A CAMEO IN TWILIGHT
"I'm not invited, actually," Rob replied. "I was shocked."
Has he ever met Prince William and/or Kate Middleton?
"I used to tell people when I came to the States, I used to tell them I did," the Twilight hunk shared. "Whenever they meet you that's the first thing they asked."
Rob also dished that growing up, he was a huge fan of the M.C. Hammer cartoon, Hammerman, saying as a child he felt like the animated show was "speaking to him."
Jimmy knew about Rob's odd obsession and he revealed, "Somebody who works here at the show happens to have an original animation cell from the Hammer cartoon, which we have now stolen off the wall of his office."
Rob graciously accepted the gift and declared it "the best thing I've ever got on any show."
"He apparently did a tour of Australia, and the only thing he brought with him was a suitcase filled with batteries and a suitcase filled with KFC," Rob shared about a story he heard of M.C. Hammer.
Catch Rob's three-part interview below! Are your surprised he wasn't invited to the royal wedding? Sound off in the comments!
Part 1 — Being a Homeless Hoarder
Part 2 — Royal Wedding Snub & M.C. Hammer
Part 3 — Playing Jacob in Water for Elephants