NEWS
Watch 50 Cent Lip Synch With YouTube Sensation Keenan Cahill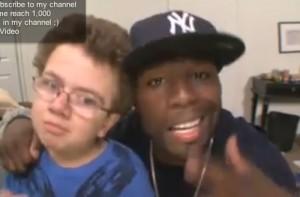 They may seem like an odd couple, but 50 Cent and YouTube sensation Keenan Cahill certainly mesh well together. The rapper helped out Keenan with one of his videos, jumping out of his closet to new lip-synch with him!
The duo lip-synchs to "Down On Me" in the clip which already has over 500,000 views.
Around the 1:20 mark, the 35-year-old rapper climbs out of Keenan's closet to join him! 50 even lets Keenan wear his blingin' necklace!
Article continues below advertisement