NEWS
Jon & Kate Plus 8 Says Goodbye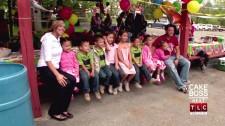 Last night's season finale of Jon & Kate Plus 8 was very emotional for Kate Gosselin. The dutiful mother feels ending the show could have been avoided, Pop Eater reports. "I feel like it's been taken from us, from me and the kids," Kate says about the hit TLC series that said goodbye last night after five seasons.
Kate calls the termination of the series "needless," according to Pop Eater.
"It's useless, it's totally avoidable. ... This is a very bittersweet goodbye for me because the kids are already missing it."
Article continues below advertisement
Cameras were forced to stop rolling due to the disagreements between Kate and ex-husband Jon Gosselin. The hour series finale featured separate interviews with both parents.
"Our marriage fell apart and I felt like I was free. And I kinda took advantage of it for a while and didn't really think about my actions, obviously, until I started getting paparazzi and written about. But that's maturing," Jon said to the camera, addressing his 'party boy' image. "That's growing up."
In the final hour, the estranged pair ventured on separate outings with their brood (twins Cara and Mady, 9, and sextuplets Alexis, Hannah, Aaden, Collin, Leah and Joel). They toured a fire station with their dad near the family home in Wernersville, Pa. followed by a day spent at a local dairy farm with Kate, an emotional outing for the mom.
The show came to an abrupt close after rumors surfaced of Jon's infidelity. The scandal tainted the show's innocence and wholesome atmosphere, followed by Jon, 32, and Kate, 34, announcing their split in June.
Article continues below advertisement
After months of controversy amidst the shocking divorce announcement, the dueling couple met on Saturday to discuss divorce and the results were oddly amicable.
According to TMZ, Jon and Kate showed up to a Pennsylvania court arbitration on Nov. 21 for what was to supposed to be a two day negotiation regarding, "distribution of assets and child support," but they were able to set the terms in one day flat.
Apparently Jon and Kate agreed on the worth of their assets and neither of them requested any spousal support, but did share a bit of contention on how their property should be dispersed, reports TMZ.
Regardless of a few minor setbacks, Jon even showed up to court with a bundle of red roses as a peace offering to his estranged wife, although she wasn't seen leaving with the gift according to E! Online.
Article continues below advertisement

Early this fall, TLC announced a plan for a replacement show, calling for Jon & Kate Plus 8 to segue into Kate Plus 8, a series that would focus on the kids and their newly single mom, with Jon taking a much-reduced role. But any plans for the new show have been halted by his objections to having the children displayed on TV any longer.
According to Jon's attorney Mark Heller, "Jon impressively put the best interests of his children above all and was extremely appropriate in his approach to the mediation. As a result of that, it came to a successful resolution."
Laurie Goldberg, a spokeswoman for the show, confirmed plans for the replacement show, Kate Plus 8, are now on hold.
"We are focusing on the launch of Kate's new series for early spring," said Goldberg. "Kate Plus 8 is not in production."
The network has offered no details on what kind of show Kate will be taking the lead role in.