NEWS
Kelly Osbourne Faces Foot Surgery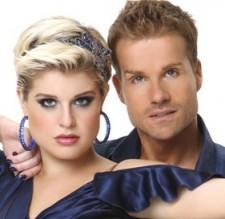 Kelly Osbourne isn't worried about the agony of defeat on Dancing with the Stars. She's more worried about the shooting pains in her feet from a condition that needs surgery.
After her strong performances on Monday night's show, Kelly revealed that every step of DWTS has been agonizing. "I have flat feet and somewhere in the 25 years of my life, I tore the cartilage in my bunion in both feet," she said.
Article continues below advertisement
Kelly was advised to get an operation, but "I said no," she explains. "I didn't want to have it because I believe if you start cutting things, you have a whole new set of problems and it wasn't that bad, so I deal with it."
But since she's been on DWTS, Kelly's feet have given her more pain. "And basically, my doctor said, 'Told you so, told you so. You wouldn't be feeling this if you had had the surgery.' So I'm going to have to have it after the show."
But the plucky reality show princess, who has flourished in her DWTS partnership with Louis Van Amstel, laughed, "It's really not that big of a deal and I get to be dramatic and Louis is going to have to look after me."
When asked by OK! why she didn't acknowledge her foot problem earlier, Kelly said, "I didn't want a sympathy vote and I didn't want to get voted through because somebody felt sorry that my foot gave up on me."
Article continues below advertisement
On Monday night, however, Kelly seemed not to be joking when she said, "Probably in about 25 minutes I'll be bedridden and not be able to walk."
She described the pain: "You know when you have a cavity in your teeth? It's like that in the bone of your foot and every time you take a step, ooh.
"Or when you have your hair in a ponytail for a really long time and that feeling like, stop, my head's killing me! It's like that but constantly in your feet, every step you take, every time you breathe in and your body changes its weight a little bit, it just sends a shooting pain. It is so painful."
Louis, 37, pointed out that the three-inch heels she wears for dancing, "make it really bad." Kelly said, "And also, because I'm flat footed, I roll my feet in and all the pressure is on the bunion of my foot and it's really painful!"
Will she dance again in the DWTS finale? Results will be announced Tuesday on the elimination show.
By Carole Glines