NEWS
Children & Family Services Could Take Away Charlie Sheen's Children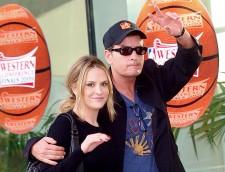 According to a new report by Hollywood Life, an insider from the L.A. County Department of Children and Family Services says Charlie Sheen and his wife Brooke Mueller will be investigated. Their nine-month-old twin boys, Max and Bob, could also be temporarily taken from them. DCFS was made aware and has started an investigation of Charlie and Brooke's altercation Christmas morning, a source says, after Charlie allegedly threatened to kill his wife with a four-inch switchblade.
Article continues below advertisement
Two social workers from DCFS' "Case Sensitive Unit" have been assigned to investigated Charlie and Brooke's case due to the high-profile nature of the case.
"They'll have a primary and a secondary social worker on this case," the insider says. "The primary social worker will report and the secondary is only there for back-up."
The DCFS case will go to court as soon as possible rather than waiting until February like Charlie's Colorado charges.
"When Charlie and his family step off the plane in California, they'll be greeted by social workers," the source says. The source also say Charlie and Brooke will be drug tested three-to-five times a week and will be under close supervision.
"Most likely a third party will move in with the family," says the source. "It could be a grandmother, mother, sister, anyone with a clean record that is cleared by the court."
The children could even be placed temporarily with another guardian, the source says, due to Charlie's history with domestic violence and substance abuse and Brooke's reported struggle with alcohol and drugs.