NEWS
Child Services is "Aware" of Charlie Sheen's Domestic Violence Arrest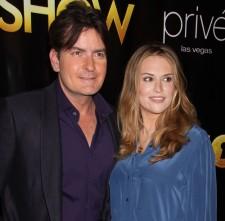 As police continue to investigate Charlie Sheen's domestic violence arrest, the local Colorado child services department has become "aware" of the charges against Charlie and is considering its own investigation, TMZ reports. Charlie and wife Brooke Mueller have 9-month-old twins, Bob and Max, together.
Officials at Pitkin County Department of Social Services told TMZ, "When there is a domestic dispute and children are present in the home, we are always notified."
Article continues below advertisement
Charlie also has two young daughters with ex-wife Denise Richards.
"If the family is vacationing in Pitkin County, and we feel that a thorough follow up is needed, we will contact the department where the family resides," the official for the social services department added.
Police were called to Charlie's Aspen home early on Christmas morning after receiving a 911 call involving a domestic violence incident. After arriving at the home and investigating, officers placed the actor under arrest while an ambulance tended to Brooke, who did not require hospitalization. Charlie was released on $8,500 bond later that evening.
Charlie is currently under a restraining order that prohibits him from being near Brooke, and is not expected to be officially charged until his Feb. 8 court date.
"First and foremost, we can't run around saying that Charlie is guilty," Pitkin County Chief Deputy D.A. Arnold Mordkin told OK! following the incident. "He's innocent until proven guilty and we all have to remember that… It is not automatic that I will file charges against Mr. Esteves on Feb. 8."
If the actor, who alleged to have brandished a knife of some sort during the incident, is found guilty of second-degree assault he can face up to eight years behind bars. At least four years of which he would be required to serve before being paroled.